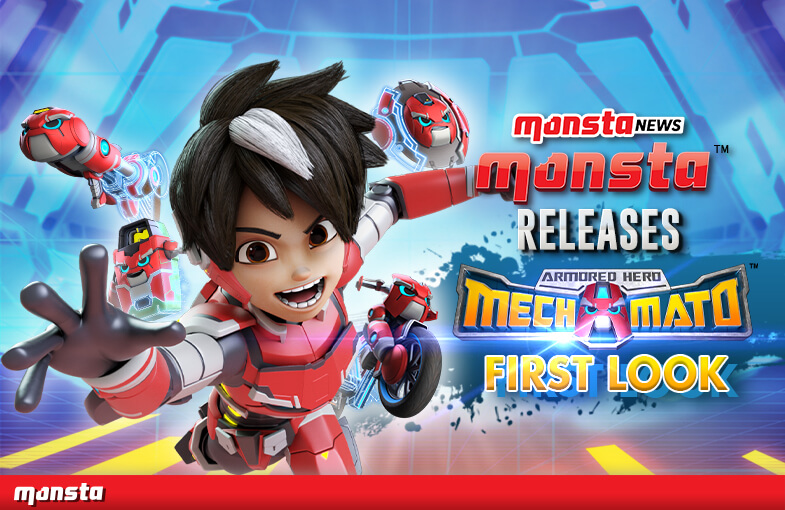 Monsta Releases 'Mechamato Series: First Look'
Hana Z.A., 9 months ago
0
8 min

read
4154
Malaysian animation studio, Monsta revealed a long-awaited FIRST LOOK at its upcoming new animated series: Mechamato on its YouTube channel and official social media platforms today following a teaser video announced the day before.

▲ Some never-seen-before footages of Amato and a Power Sphera named MechaBot in this 'First Look' video. Watch it now!

The new series will follow the adventures of a young boy named Amato who somewhat inadvertently becomes the master of MechaBot, a Power Sphera with the power to mechanize any object.
Long-time fans and followers of Monsta may already be familiar with the term 'Power Sphera' from the studio's hit Elemental Superhero series, BoBoiBoy. Within the series' universe, Power Spheras are sphere-like robots with special powers or abilities that can be harnessed by its master. Monsta will carry forth the same theme of a 'hero and robot' pair in the new Mechamato series as well.

▲ 'Power Spheras' that have appeared in the BoBoiBoy Galaxy series
Ever since the shocking revelation in the post-credits scene of BoBoiBoy Movie 2 (2019) showing a mysterious armored character who was referred to as, "Amato" and later revealed to be BoBoiBoy's father through an old photograph, speculations have been rife among diehard fans and casual viewers alike. Many are hopeful for a deeper look into Amato as a character and his connection with BoBoiBoy.

▲ A man in red armor at the end of BoBoiBoy Movie 2 (2019) was revealed to be BoBoiBoy's father
Mechamato dari syarikat Animonsta ni should be one of the most anticipated Malaysia animation series untuk tahun 2020.

Mengisahkan perjalanan hidup Amato, bapa Boboiboy semasa kecil. pic.twitter.com/E1SyycTCxA

— Pakcik Kim (@kimyaqee2) January 3, 2020

▲ Many netizens are looking forward to Mechamato's story and how it connects to BoBoiBoy's. This post gained 11K ❤ on Twitter.

Can't wait to see Amato, BoBoiBoy's father in his youth having his own adventure in the new series Mechamato this Wednesday 😍😍 #Mechamato pic.twitter.com/sJqwF5WiuG

— サクQueen ❄️🌏 (@Sakurano99) April 5, 2020
▲ The confirmation that Amato is BoBoiBoy's father as a young boy is a point of curiosity and excitement among many fans.
The contents I'm most fired up is Mechamato & BoBoiBoy Galaxy S2. I wanna see the story of young Amato as he started his life as a young armored hero & more adventures in BoBoiBoy Galaxy S2.

I am really really excited and full of hopes in the upcoming 2020!#Monsta2020 https://t.co/ALei8RvPaq

— Slrahc😎😉❤️ (@itsmewillotski) December 31, 2019
▲ Another fan excited for the Mechamato series.
▲ Amato and MechaBot's first encounter did not start off on friendly terms.

The 'Mechamato Series: First Look' video showed what appeared to be the very first meeting between Amato and MechaBot.
The 'Mechamato Series: First Look' video showed what appeared to be the very first meeting between Amato and MechaBot. The latter seemed to have crash-landed on Earth when Amato discovered him. Both characters had a rough initial impression of each other to say the least. Later on in the video, MechaBot displayed his 'mechanization' abilities by mechanizing with random objects in his surroundings such as a trash bin, broom, and even a bicycle! The video peaked with a cool transformation sequence in which Amato dons MechaBot in the form of a red suit of armor, striking a pose on the streets, while the camera pans away to show a mysterious group of robots. The ending has a bit of a humorous tone that viewers will have to watch for themselves!
See screenshots from the video below ▼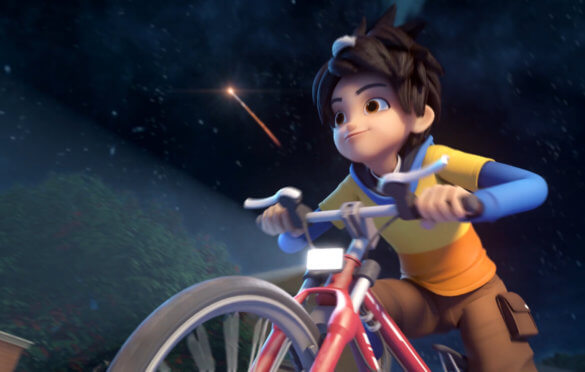 ▲ MechaBot transforming into an armored suit worn by Amato.
Netizens have taken off with the hashtag #HiMechamato on Twitter in anticipation for the release of the 'Mechamato Series: First Look' video.
Flood the TL with #HiMechamato https://t.co/uktc9gXMLB

— Mechamato (@mechamato) April 6, 2020
▲ The official Mechamato Twitter account rallying fans and followers to use the #HiMechamato hashtag to send messages of support for the new series.

#HiMechamato is this enough? pic.twitter.com/NUVYFoymIH

— saya menanyakan alasan saya (@ThisisThas) April 6, 2020
▲ A follower even set a reminder on their phone in preparation for Monsta's exclusive 'Mechamato Series: First Look' video on 8th April.
It's trending I guess. I'm joining

Hi Amato! #HiMechamato

Now what?

— Hyuna stays at home 💧❄️🍃⚡️ (@LeeHyuna96) April 6, 2020
#HiMechamato! International fans like me from around the world are so excited to see you and your adventures! Are you excited to see us too?

— Slrahc😎😉❤️ (@itsmewillotski) April 6, 2020
WEH #HiMechamato TRENDING DOH pic.twitter.com/s4aZHdpNe2

— nat kesana kesini (@minthopia) April 8, 2020
Dah jadi nombor 2! 😗 https://t.co/TP2uALGGPp pic.twitter.com/btACLRfmit

— nanaz🍍 (@irznayay) April 8, 2020
▲ The #HiMechamato hashtag immediately gained quite a traction on Twitter even among international followers. The above are just a few examples among many.

▲ What sort of shenanigans and adventures would this new duo find themselves in?

▲ A clip of Amato struggling with a phone-like gadget that controls MechaBot.
Monsta teased the release of 'Mechamato Series: First Look' days prior to the drop-date and many fans immediately took to social media platforms such as Twitter to share their excitement and eagerness for the reveal. Reactions ranged from giddy anticipation to even dramatic and intense emotional outbursts.
Monsta keep serving even during RMO and probably WFH. New content every other day is just *chef's kiss* https://t.co/vH0mOoN5Yq

— 🅂🅈🄰🅂🅈🄰 ⁷⚡️ (@l0ve_jungk00k) April 5, 2020
I can't whatttt😭😭😭😭 my hearttt ohhh myy goodddd😭😭😭😭😭😭😭 this Wednesday im cancelling everything im watching just TO WAITT FOR THISSS AHHHHHHG https://t.co/C5yzFAKekA

— bucin_lmao_gurl (@itzvyra_G) April 4, 2020
▲ Twitter users express delight upon Monsta revealing the drop-date for Mechamato's early preview – 8.4.2020.
Monstaスタジオ最新作「MECHAMATO」が4月8日お披露目決定!!!
こんなに嬉しいニュースは他にありません!#mechamato #Monsta2020 #BoBoiBoy #StayHome https://t.co/4XA2J69mgf

— 非公式 ボボイボーイ&MECHAMATO (@boboibo_y) April 4, 2020
▲ A Japanese account tweeting about Mechamato. Many international fans from all over the world are hyped about the new series.
BOI I LOVE MECHABOT'S SHINING BLUE EFFECT
AND IS THAT THE THEME SONG?! I– *heavy breathing* https://t.co/hEywIbGlcL

— Aicha (@mochaichaa) April 7, 2020
▲ A viewer's reaction to the teaser video for 'Mechamato Series: First Look'.

▲ The dynamic between MechaBot the Power Sphera and Amato seems like it will be an amusing one.
According to Nizam Razak (Monsta's Chief Executive Officer) in his social media post, the 'First Look' video was initially intended for internal pitching purposes only and not for the public eye. However, in the hopes that it may entertain and cheer Monsta's enthusiastic fanbase during the Movement Control Order (MCO) currently enforced throughout the country, Monsta decided to release the video to the masses.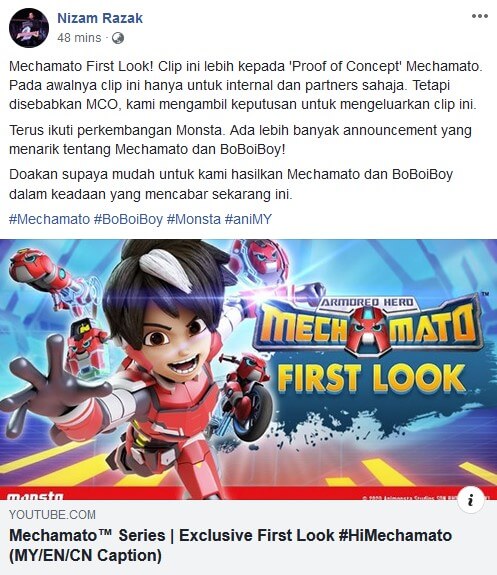 Finally, we have collected some truly amazing reactions to the 'Mechamato Series: First Look' video which you can see below. Thank you for the tremendous support!
Wow, I'm so impressed by the first look! My expectations are met better than I imagined! THIS IS GONNA BE A BIG HIT JUST LIKE BOBOIBOY.😍😍👍👍👍👏👏👏👏
CAN'T WAIT FOR IT!

Like father, like son.😮 Young Amato is so 😎.#HiMechamatohttps://t.co/eOPL53wF34

— Slrahc😎😉❤️ (@itsmewillotski) April 8, 2020
Another level. Amazing 💖 #HiMechamato

— Oppang (@KittyKookies) April 8, 2020
#HiMechamato …. the first look is so good .. the amato sound is so cute..MechaBot is so amazing … all the things he can mechanize .. aaaaaaaaahhhhhhhhhh I can't wait to see the episode MECHAMATO😆😆💓💓 https://t.co/cOCvzuYzas

— ~Kai syhu~ (@KaiSyhu) April 8, 2020
#HiMechamato HOW DO I SAY THIS? THE ANIMATION, HIS VOICE, THE DIALOGS THE "laa robot tong sampah rupanye" AHHHHH PERFECT AND THE LAST SCENE SUCH PERFECT TEASER 😭😭💞💞💞 GOOD JOB MONSTAFFShttps://t.co/pCrrhbRRCV

— Cia (@kira_ar150) April 8, 2020
So I just recovered from watching the first look.

Needless to say, this is me#HiMechamato pic.twitter.com/s23cN9mMXs

— Skynder Joy 🏐 Looking for Yaku (@sky_andDive) April 8, 2020
I could see improvement from Monsta that emphasize Amato's face reaction and graphics. The robots isso cute and Amato look cooler <3 cant wait too see Mechamato on the TV. Going to be my next favourite series !

Mechamato series FIRST-LOOK: https://t.co/ICIBknSfDN#HiMechamato

— Ima Said (@Imasaid_) April 8, 2020
The Mechamato preview is very anime

HOLY SHIZ I'M ACTUALLY EXCITED

— MelancholiouS_ (@Dibsky_) April 8, 2020
'Graphic terbaik lah. Bangga ini datang dari Malaysia'Mechamato™ Series | Exclusive First Look #HiMechamato (MY/EN/CN Caption) https://t.co/LDgpb9RdSI via @YouTube

— Aan (@Hugh_Bub) April 8, 2020
#HiMechamato BEST GILER FIRST LOOK NI!!! Ada sedikit lawak dlm ni tau!!😂😂😂👍👍 hahahaha comel la Amato ni💕💕💕https://t.co/bd80Q3Uftc

— Aishah Madoka (@AishahMadoka) April 8, 2020
Mechamato!!!! Serius gempak huhuhuhu. Bapak boboiboy! Tak sabar nak tgk. 😋😌😁
https://t.co/mQAkqVZhcF

— ❤️✨ (@snaarishia) April 8, 2020
#HiMechamato the first exclusive is not enough ;A; omg im sooo excited now

— liyana⚡️ (@_itzmelyana) April 8, 2020
Lawa sangat animasi mechamato 😭😭 I love everything about it 😭 tahniah monsta! You guys did a very wonderful job 😭😭👍👍👍 #himechamato @ChannelMonsta

— ^ㅂ^ (@ejengalaxy) April 8, 2020
#HiMechamato
This is gonna be very interesting ✨✨ pic.twitter.com/USY2W5e9pu

— Lya's here! (@LegendaryLya20) April 8, 2020
Graphic mechamato lawa gila kan. Fuhhh tak sabar nak tunggu series dia 👏🏻

— KaSo (@KaizoIsLyfe) April 8, 2020
#HiMechamato so, this is basically what i got from @mechamato trailer vid pic.twitter.com/pUjSHWn97v

— im ambyar (@rainalex_) April 8, 2020
Monsta promises more exciting reveals regarding Mechamato in the near future so we suggest that you sit tight and get ready for a few surprises! In the meantime, do follow Mechamato on these official platforms:
---
Related posts