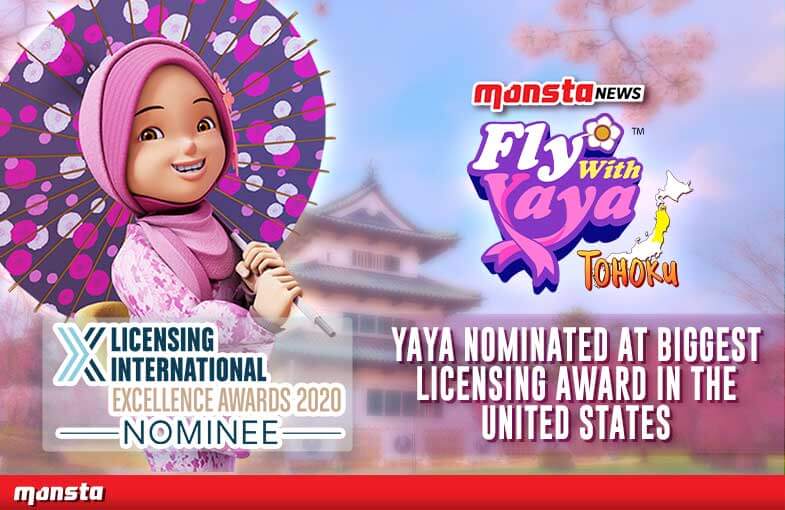 Malaysian-made Character 'Yaya' Nominated at Biggest Global Licensing Award in the United States
Hana Z.A., 8 months ago
0
6 min

read
1794
April 13, 2020 – Just in time for Ramadhan, Monsta's very own 3D-animated Muslimah character, Yaya is making the country proud at the Licensing International Excellence Awards 2020 held in the United States where Monsta's Muslim-friendly travel show, Fly With Yaya: Tohoku has been nominated for 'The Newcomer Award'. For 35 years, the Licensing International Excellence Awards have served as the pinnacle of achievement in the global brand licensing industry.
[ Klik di sini untuk artikel ini di dalam versi Bahasa Malaysia ]
#FlyWithYaya TOHOKU is one of the nominees for the Licensing International Excellence Awards 2020 under 🌟The Newcomer Award🌟 category❗

Thank you for your support!#LicensingAwards#Halal #Japan #Travel#Monsta2020 pic.twitter.com/k5xU2yvAMO

— Monsta™ (@ChannelMonsta) April 15, 2020
This is the first time a Malaysian character has been nominated for the award⁠—previously won by the popular online video game Fortnite in 2019. Fly With Yaya: Tohoku was nominated among 600 other entries from companies in 22 countries around the world, including The Coca-Cola Company, Puma, Shiseido, Mattel, Hasbro, Bandai, The Hershey Company and many more.

▲ Watch Episode 1 of Fly With Yaya: Tohoku on Monsta YouTube Channel!
Monsta has spent almost 2 years building a strong brand for Yaya through the Fly With Yaya series in an effort to prove that a strong and confident Muslimah girl can also appeal to an international audience. The Licensing International Excellence Awards nomination is a significant milestone for the studio and shows that there is a global demand for the representation of Muslim characters in media.
Siri 🌸#FlyWithYaya🌸 mendapat sambutan HEBAT melalui kolaborasi pelbagai syarikat² Jepun & kerajaan Jepun🎌 untuk siri pelancongan mesra Muslim ini❗

Artikel oleh @Kakimuvee:👉 https://t.co/xghI3Ca3xB

FB post: https://t.co/btYNQQeueg#BoBoiBoy #Monsta2020 #Japan #Travel pic.twitter.com/SjgD0Pse1s

— BoBoiBoy (@BoBoiBoy) January 27, 2020
Co-produced by Monsta and Creative Minds LLC. (based in Tokyo, Japan) together with Yamagata Broadcast and Tohoku Inbound Associations, Fly With Yaya: Tohoku is the latest installment of the Fly With Yaya series hosted by Yaya (a character from the hit Malaysian animated series, BoBoiBoy), who travels around the world to explore beautiful sights and Muslim-friendly destinations. Response to the show has been phenomenal, with a total of more than 21 million views on the Monsta YouTube Network in just 13 months.

▲ The trailer for Fly With Yaya: Tohoku on Monsta YouTube Channel
Far from resting on this success, Monsta already has plans to use the same approach to promote and rejuvenate our struggling tourism industry in a post-COVID-19 Malaysian economy. Having earned the trust of even the Japanese tourism industry, Monsta is more confident that their animated icons will be perfect for promoting our own local tourist destinations.

▲ Yaya visits a hot springs town in Yamagata prefecture, Tohoku
Monsta hopes that Fly With Yaya: Tohoku's nomination in the Licensing International Excellence Awards will open up more opportunities for Monsta's brands and Malaysian brands in general, as well as promote Muslim-friendly travel destinations in the global market.

▲ Along with Yaya, the viewers can learn about many interesting places, cultural practices, and events in the Tohoku region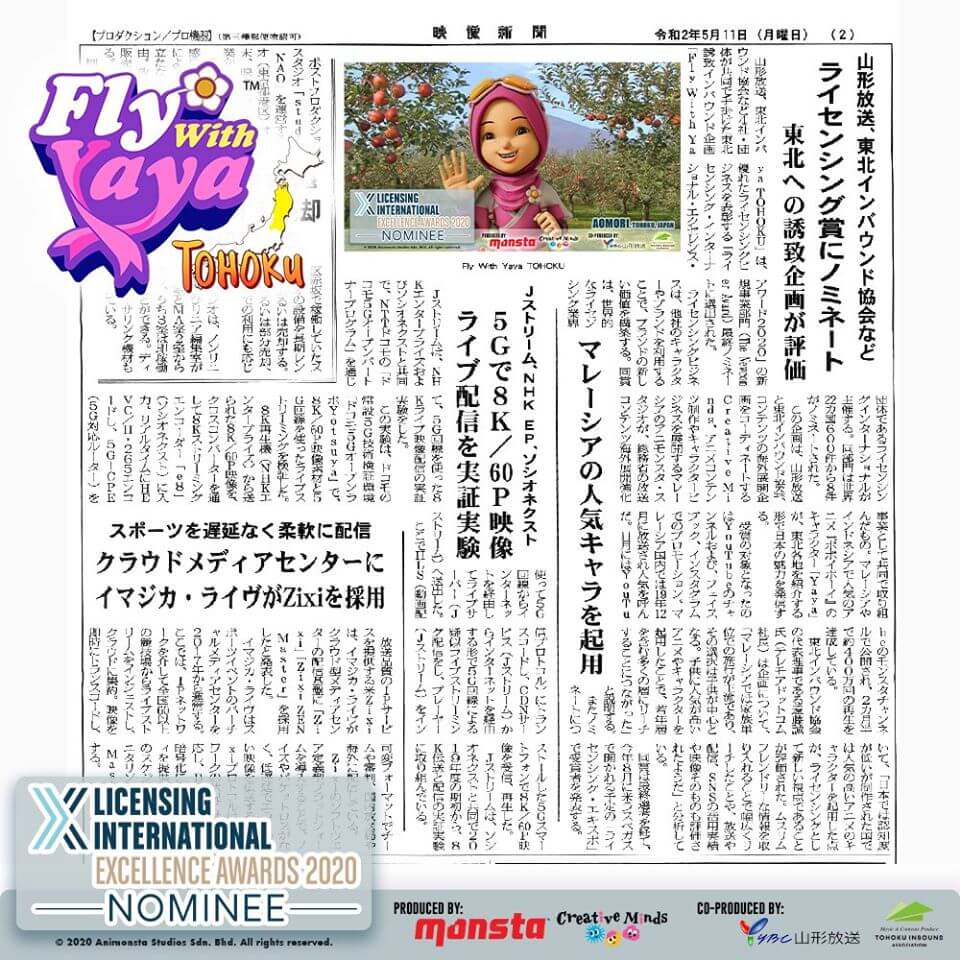 ▲ "Among the hundreds of submissions that have all shown amazing work, creativity, and innovation, Fly With Yaya Tohoku series is one of the chosen nominees that have made it to the top!"— An article by Japanese newspaper Eizo Shimbun that has been established since 1972.
---
The companies behind 'Fly With Yaya: Tohoku' and their comments on the nomination

"The Japanese Government has been supporting Japanese broadcasters and producers to co-produce content that expand the charm and beauty of Japan, together with international producers and broadcasters. I am very happy that the 'Fly With Yaya: Tohoku' project has enabled an effective and widespread reach including among the younger generation, by having Malaysia's outstanding IP/Character as a key element of the project."
– Mr. Koki Yoshida, Director for Global Promotion of Broadcasting Program in the Ministry of Internal Affairs and Communication, Japan
"I'm happy to see the idea of implementing an influential character into tourism promotion has been fully acknowledged by the Japanese government and global licensing world. I'm proud that Yaya has been selected to promote the Tohoku region in Japan. This award nomination is an honour to both Malaysia and Japan and we hope we can work closer together again."
– Mr. Nizam Razak, CEO of Monsta (Animonsta Studios), Malaysia
"We are very happy that our creative licensing where Yaya, a character not known or released in Japan, was able to find sponsorship to maximize exposure of the hidden beauty in the recovering Tohoku region in Japan. The team has done a wonderful job in making the episodes beautiful and fun at the same time. I hope 'Fly With Yaya' will continue to expand interest to viewers globally, in these challenging times that the world is facing."
– Ms. Ikuko Kogiso, President of Creative Minds LLC
"The Tohoku region has not been very widely acknowledged. Our strong desire to promote Tohoku led to cooperation between different industries. We hope Yaya's power will ignite and carry the promotion of the Tohoku Region very far."
– Mr. Hidekyuki Aoki, Yamagata Broadcasting Department Manager
"Among the many promotions that our Association has worked on, 'Fly With Yaya: Tohoku' has provided a great opportunity for others to learn about the Tohoku region of Japan. Through the experience we have gained creating 'Fly with Yaya: Tohoku', we hope to continue to promote and aid the Tohoku region moving forward. Come visit Tohoku!"
– Mr. Makoto Endo, Representative Chairman

▲ Yaya goes skiing on the mountains of Yamagata prefecture
---
Screenshots from Fly With Yaya: Tohoku below ▼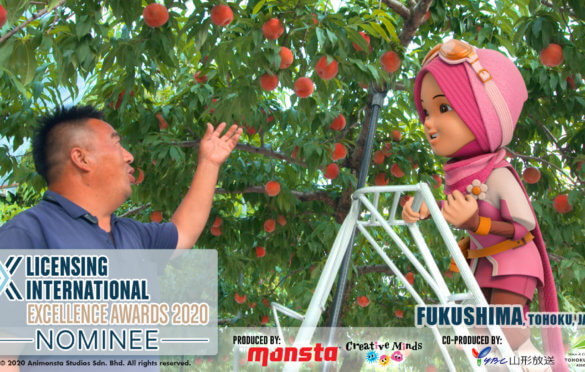 ---
About:
Licensing International
Founded in 1985, Licensing International is headquartered in the United States (New York City), and maintains offices in Australia, China, Germany, Japan, Mexico and the United Kingdom, with additional representatives located in Brazil (the Brazilian Licensing Association, ABRAL), Canada, France, India, Italy, and Russia. The Licensing International membership is truly global, with members in 40 countries worldwide.
Monsta (Animonsta Studios Sdn. Bhd.) is a character and intellectual property company which has been producing animated series, films, and consumer products for more than a decade. The company is well-known for its popular animated franchise, BoBoiBoy, Papa Pipi, the travel show, Fly With Yaya, and their highly-anticipated upcoming animated series, Mechamato. BoBoiBoy is a phenomenal success in the Asia region with more than 5 Billion views on YouTube to date.
Creative Minds LLC., is an international business development, consulting, program sales company and producer that fully utilizes its international connection, creativity and communication skills. The company's current focus is exposing and creating business in Asia and Japan. Their most recent creative developments include the production of Fly With Yaya under a Malaysia-Japan travel licensing deal.
Yamagata Broadcasting Co., Ltd. (YBC) is the No. 1 television station in Yamagata Prefecture within Japan's Tohoku region for more than 25 years. It started in 1953 as a radio station and its TV broadcasting started in 1960. An affiliate of the Nippon TV Network.
The Tohoku Inbound Association is dedicated to actively promoting the Tohoku area of northern Japan to overseas countries with a particular focus on nearby ASEAN areas. The association undertakes ventures such as video production, app development, advertising, and event planning/organization to promote the Tohoku Image.
Related posts