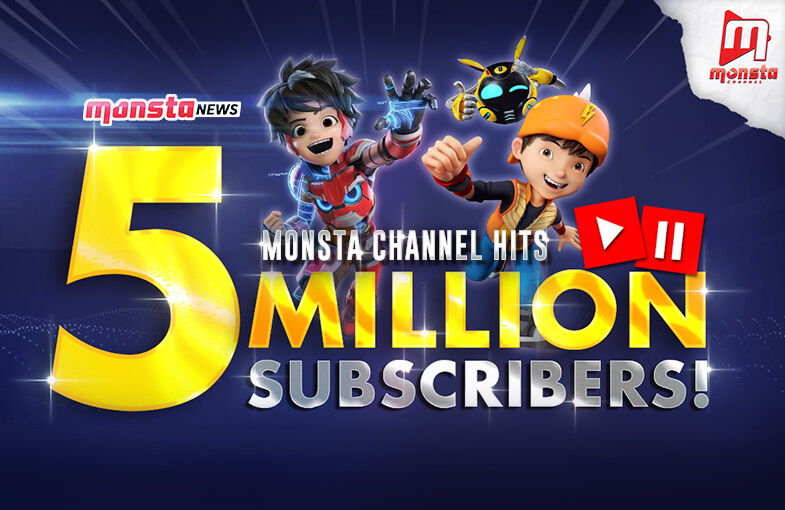 BoBoiBoy's Monsta Channel on YouTube Hits 5 Million Subscribers From Over 70 countries!
Hana Z.A., 1 year ago
0
3 min

read
3376
Animonsta Studios' very own YouTube channel, Monsta Channel, has recently surpassed 5 million subscribers, marking an important milestone for the channel since it first began 6 years ago in 2014.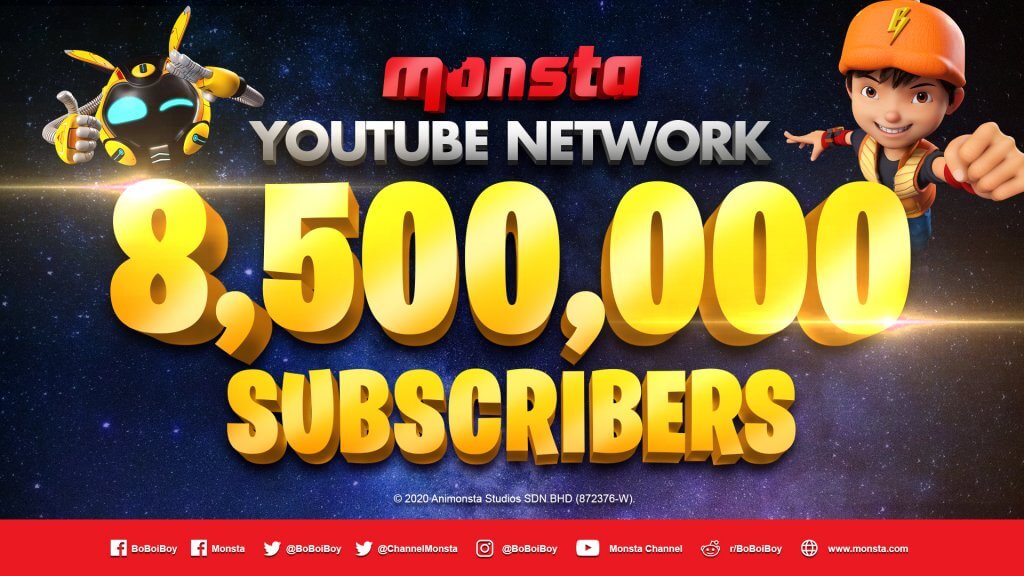 Monsta Channel is part of the Monsta YouTube Network—one of the biggest digital networks for kids and families in the South East Asia region with a combined total of 8.5 million subscribers.
Videos on the Monsta YouTube Network have been viewed more than 4 billion times from over 70 countries around the world. It supports a variety of original shows—all available to watch for free—including BoBoiBoy Galaxy, Fly With Yaya, and the new short series: Pesanan Papa Pipi.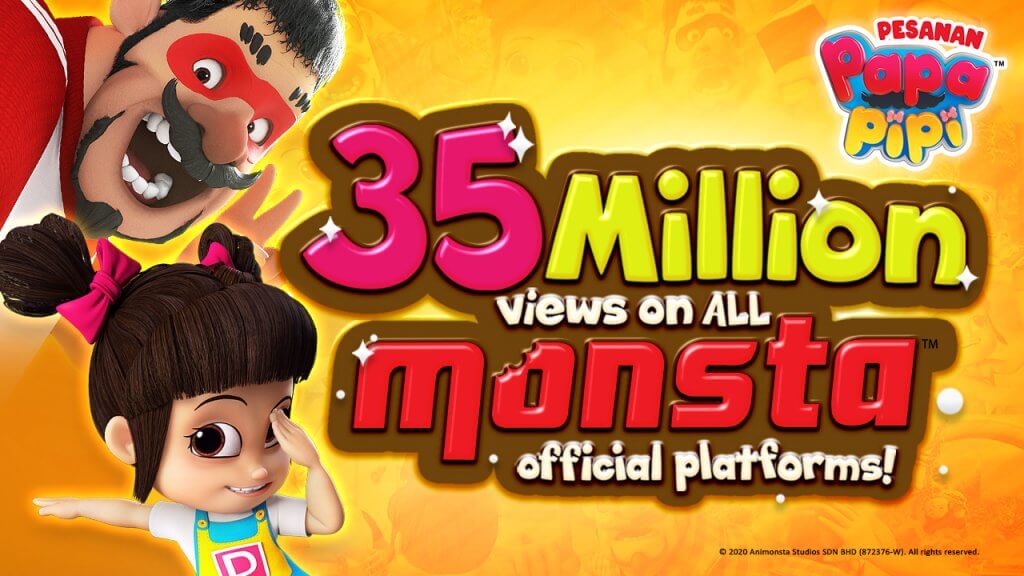 Pesanan Papa Pipi premiered in November last year and has since garnered more than 20 million views on YouTube. Its Facebook, Instagram, and TikTok reached 15 million views in total, quite a shocking success for a fledgling series currently only available online and without any additional promotional support from local TV stations. Clips and screenshots from the show regularly go viral and continue to be shared enthusiastically by new viewers.
▼ Below are some of the viral Papa Pipi posts on social media
Hhahahh soalan dia banyak susah weii pic.twitter.com/M7MyJIzf4L

— ɴɪᴋ ᴍᴜᴢᴀᴍᴍɪʟクムザミル (@5_z00m) January 3, 2020
The show follows the daily life and antics of Papa Zola, the lovable but bumbling comedic character from the BoBoiBoy series, and his brilliant and adorable young daughter, Pipi Zola. Viewers may recognise Pipi Zola by her first appearance in Animonsta Studios' hit animated feature film: BoBoiBoy Movie 2.
Local superhero BoBoiBoy has also gained a following in China where the series generated over 40 million views on Tencent Video, one of the country's top online video platforms. Following this success, BoBoiBoy The Movie will be making its debut on the platform as well, while plans are underway to bring BoBoiBoy Movie 2 to China theatres in the near future.

▲ The BoBoiBoy Movie 2 teaser trailer was released on 8th March 2019
To top it off, Fly With Yaya, an original Muslim-friendly travel show by Animonsta Studios has reached over 27 million views on all official platforms. Going strong with its second season, the show follows one of the popular characters from the BoBoiBoy series, Yaya, as she travels through beautiful locations in Japan such as Tokyo, Kyoto, Osaka and the most recent being the Tohoku region. The show was co-produced with Creative Minds Japan in partnership with Yamagata Broadcasting Company and Tohoku Inbound Association. With the support of the Japanese government, it aims to promote Japan tourism to the world.
Other than these original shows, Monsta Channel also legally hosts a variety of animated shows for free such as Pokémon the Series: Sun & Moon, Pokémon the Series: Sun & Moon—Ultra Adventures, Beyblade Burst, Beyblade Burst Evolution, The Oddbods Show, BOING The Play Ranger, and Zoids Wild. The channel also serves some kids-friendly content such as Suzy Zoo, Om Nom Stories and Noonbory.

▲ Pokémon the Series: Sun & Moon—Ultra Adventures episodes have just started airing on Monsta Channel. Check them out!

As its subscriber base continues to expand, Monsta Channel on YouTube hopes to continue its growth on various digital platforms and aims to bring many more exciting content from around the world into the region.
Related posts